Medical Devices and Health System | Forefront of Medical Innovation
The medical devices sector includes all those medical technologies that make a difference in making a health care system at the forefront, is an essential component. The characteristics of medical devices, linked to innovative processes complex integrate synergistically, creating a multidisciplinary nature in the field of medical equipment and systems:
#
Biomedical Tools are tools and equipment for surgery, monitoring, rehabilitation, support.
#
Electromedical Equipment Diagnostic devices are radiological and ultrasound imaging and management systems for computerized imaging; ECG, EEG, etc.
#
Telemedicine services, manufacturing and other activities related to medical devices.
Hybrid Operating Room
By developing of new technologies, the boundaries between the area dedicated to diagnostic imaging and one reserved for the operating theater, surgical, tends to become increasingly blurred and overlapping. This raises the need to combine into one "space" within the operating theater equipment and technologies of radiology rooms. From this need was born the concept of hybrid operating room.
Hybrid operating room is a multifunctional environment that simultaneously takes on the function hall diagnostic, radiological, hemodynamic interventional and surgical room. A new combination between the act of diagnostic and surgery, here comes the term hybrid surgery.
The surgery has hybrid solution, therapy procedures are integrate with the diagnosis procedures in order to join in a faster and more efficient.
The possibility of combining conventional surgery with diagnostic imaging involves many different professionals, who will work in a team providing their expertise.
The hybrid operating room can be used as a diagnostic room in the strict sense that as a classic, traditional, operating room.
Operating Table for Hybrid Operating Room
The selection of operating table suitable for use in the hybrid operating room depends on the primary type of use, in addition to being a choice and a compromise between the requirements of interventional and surgical ones. However, in addition to requirements of security and stability, some characteristics and general requirements we can summarize as follows:
#
Table needs to be radiolucent
#
Table needs to ensure correct positioning of the Patient
#
Flexible table, allows to change Patient positioning during surgery
#
Floating, segmented table, specific for surgery with the possibility of vertical and lateral tilt as well as adjustable height
#
Adaptable to different types of surgeries procedures. Each procedure it can perform properly
This type of operating table can be the right balance between the needs of surgeons and interventionists.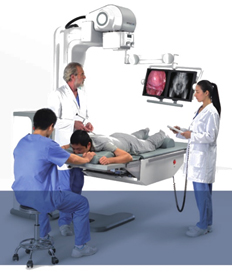 Operating Table with Integrated Radiological System | UROT
Operating table, surgery table, multifunctional integrated with the X-ray system that allows Physicians to play both traditional surgical activity in interventional radiological guidance. New technology for a hybrid operating room.
Workstation full digital with intuitive interface to maximize the Physician's workflow. A new standard for medical procedures, integrated system of high quality in a general framework, broader and faster.
New technology, medical device, to progress the implementation of medical procedures. State of the art, technological excellence, new method and advanced tool for doctors in various and multiple procedures. Thanks to the concept of versatility, flexibility and a new concept of design, UROT provides variety of unique positions simpler and faster for medical procedures.
UROT innovative system with direct benefits on the health of the patient as it covers the entire stretch KUB with one single shot, reducing significantly the X-ray dose needed for a required exam.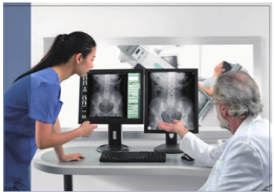 What does KUB stand for?
KUB stand for Kidney, Ureter, and Bladder. Term used in a radiographic examination to determine the location, size, shape, and malformations of the kidneys, ureters and bladder.
UROT is the latest standard for urological interventions more effective and efficient. Allows getting a real KUB in a single exposure. A powerful generator modern X-ray and high-frequency detector sensitive and dynamic for optimal data capture with a mega-pixel screen that reveals detailed high definition images.
By operating on a surgery table with the guide image by an arm of the stand-alone C arm (traditional method), means a lot of valuable time wasted on positioning, empty time that could be saved. Today, thanks to the innovative technology, versatility and integrated design system UROT, procedures can be performed with a modern embedded system radiological X - ray faster and easier than before. In addition, the advanced imaging technology improves patient care, allowing Physicians to detect and characterize anomalies in a very early stage.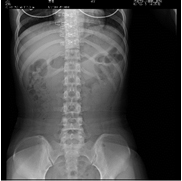 UROT | Multiplicity of Clinical Applications
UROT real improvement and performance of multiply medical procedure:
#
Real KUB in one shot. Achieving wide reduces the dose for patients and staff.
#
Wide range of diagnostic and therapeutic procedures.
#
Excellent work – flow and time saving
#
Intuitive interface
#
All in one, workstation controls the X-Ray imaging system as well as all table movements.
#
Adjustable travel motorized table the patient should not be repositioned. Varies and unique positions.
#
Versatility and Flexibility unique design allows free patient access from all sides.
#
High quality images.
#
Dual medical monitors can be adjusted both side.
#
All stage edit – operators are allow to perform both real-time and / or post as storage editing of the X-Ray images allowed.
#
Full functional Image Workstation.
#
Interface for external video sources.
#
Connectivity and Networking – full Dicom compatible.
#
Fully ergonomic controller.
Please
Contact Us
for more information.
AGADA' Medical Technologies | Deal clinical cases with multidisciplinary technological resources.
Conditions and terms of use: The contents of our website have been carefully examined. Nevertheless, we assume no responsibility for the accuracy, completeness and timeliness of content.