Erectile Dysfunction Treatment | linear Shockwave
Erectile Dysfunction (ED) Treatment by Low density linear Shockwave therapy. Extracorporeal Shock Wave, (LISWT) is a non invasive treatment to stimulate and improvement new blood vessel networks in the treated tissue zone. The process, called neoangiogenesis, significaly induce the vascular system to renew itself in the organs exposed to the shockwaves.
Innovative medical device for a non-invasive treatment of Erectile Dysfunction with linear low intensity shock waves, to improve treatment and prevention of andrology and urology field in general.
Linear Shock Therapy how it works
Linear Shockwave Low intensity applied to the corpus cavernosum of the penis regenerate vascular tissue by increasing the blood flow of the erectile tissue allowing the achievement and maintenance of a full Erection.
Cavernous bodies are focalized with a correct angle of inclination by a probe.
The probe distributes the energy optimally while it flows longitudinally along the penis corpus cavernosum.
Treatment is performed in an out-patient setting and does not require anesthesia.
Being a totally non-invasive, it allows Patient to return immediately after each session of treatment to daily routine.
Erectile dysfunction (ED) is a medical term that describes the inability to achieve or maintain an erect penis adequate for sexual function.
This condition is one of the most common sexual problems for men that increases with age. It is estimated that 80% of cases of erectile dysfunction are of vascular origin.
Most men have difficulty with erection from time to time, but in some men, it is a regular and more serious problem. It can cause low self-esteem, performance anxiety, depression and stress. The pathology of erectile dysfunction can affect the quality of a marriage or intimate relationships.
Low-intensity Linear Shockwave | the Technology
Shockwaves are energy waves similar to sound waves that propagate by means of liquid such as water, solid or a gaseous medium for example air.
From a physical point of view, shock waves are defined as high-energy sound waves.
since 1980, various technologies that use Shockwave have been used in the medical field.
Based on the applied energy density we can schematize in three large different categories:
#
High intensity shock waves are used for lithiasic pathologies of the urinary tract, the breaking up of kidney stones.
#
Medium intensity shock waves are used for a wide range of orthopedic conditions thanks to anti-inflammatory properties.
#
Low intensity shock waves have the property of regenerating the vascular system, they are used in cardiology in the treatment of peripheral neuropathies to induce the regeneration of small coronary vessels of the heart and of chronic wounds and in andrology for treatment, therapy and prevention of erectile deficiency pathology.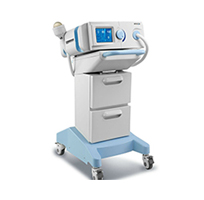 Linear Shockwaves | AGADA' Medical Technologies
The linear therapy Shockwave LISWT, sequences of single energy pulses, is dedicated entirely to the application for ED erectile dysfunction and is the only technology able to completely cover the organs to be treated, cavernous bodies. An innovative transducer directs the application with an optimal penis coverage (corpus cavernosum) and of the perineum (hard penis).
Clik here
for a free registration & PDF download
AGADA' Medical Technologies | Deal clinical cases with multidisciplinary technological resources.
Conditions and terms of use: The contents of our website have been carefully examined. Nevertheless, we assume no responsibility for the accuracy, completeness and timeliness of content.